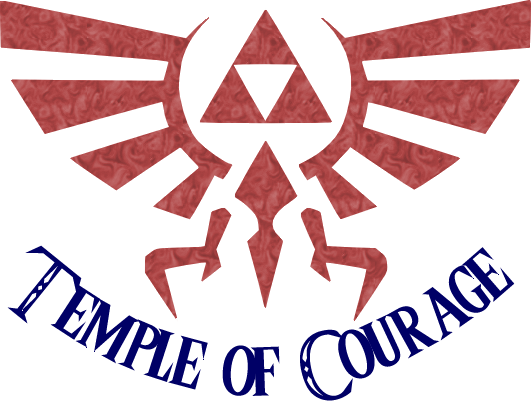 Welcome to the Temple of Courage, where various characters from the Legend of Zelda series battle out on a semi-weekly basis! You, the people, are the deciding factors in these matches. Functionally, all of these battles are popularity contests and not "battles" as such. For instance, in a boss vs. boss fight, we suggest that you vote for the one you like the most rather than whether or not one enemy would beat another in a legit fight. This is only a suggestion, though.
If you have an account and have at least 50 mainspace edits, you can suggest a fight or vote or comment on others on the suggestions sub-article.
Rules
You may vote for your favorite or who you think would win in a competition between the two combatants that week.
You may only vote once.
If you are a user, please include your vote in the user section. If you are not a user, please include your vote in the anonymous section. However, any votes put in the anonymous sections will only count as a half vote.
When a new fight is created (the process should take no longer than a week, give or take a couple of days), the votes from the last fight will be totaled and winner decided.
Please sign your vote (unless you want to be counted as an anonymous vote) with a link to your username after your voting text.
Don't try to rig the votes by entering multiple votes; these pages are regularly patrolled and you WILL face consequences if you are caught.
A short notification must be made before changing the fight.
Please don't use talk templates.
"'Undecided'"



LLLLLLLLLLLLLLLLLLLLLADIES AND GENTLEMENNNNNNNNNNNNNNNNNN!!! Zeldapedia, in one of its seemingly last outings as a member of Wikia, proudly brings to you the TEMPLE. OF. COOOOOOOOOOOOOOUUUUUUUUUURRRRRRAAAAAAAGE!!! This week, we have a battle against two famous sculptors and artists of The Legend of Zelda lore. But whose "poetry of the soul" will reign victorious tonight, in this Clay Fight (I'm sorry, I really am.)? We request that the audience be quiet, as there are artistes on stage. Now let's review the storied history of these two.

In the pale green corner, we have the master pig-man(?) sculptor of the Great Sea, whose works include a collection of miniature figurines depicting (potentially) every living creature known to reside in the greater Great Sea area. Using only colored Pictographs as a reference, he is able to perfectly recreate pretty much anything or anyone, all the while working in only his underpants. THIS. IS. CAAAAAAAAAAAAARLOOOOOOOOOOOV!!!

In the light red corner is a man considered the best sculptor and painter on Koholint Island who happens to be an anthropomorphic crocodile. His masterpiece, The Mourning Mermaid, hides the entrance to a cave wherein the mystical Magnifying Lens is found. His brother is Sale, collector of canned goods. At the time of the hero's arrival in his studio in Animal Village, he has moved onto painting nude models (the extent of whose nudity depends on the origin of one's copy of the game) in daring post-expressionist style. THIS. IS. SCHUUUUUUUUUUUULE DOOOOOOOOOOOOOOOOOOOONAVIIIIIIIIIIIIIIITCH!!!

So, whose "poetry of the..." What? I already did this part? Well crap, I'm all out of art-based puns... hey, look over there! *runs to safety* LLLLLLLLLLLLLLLLLLLLLLLLLLLLLLLLET'S GET RRRRRRRRRRRREADY TO CRUUUUUUUUUUMMMMMMMMMMMMBLE!!! Err, rumble. Yes.

Votes for Carlov

Anonymous votes

Carlov is pretty cool. His figures are informing and funny at the same time! Picture is weird though...
I actually kinda liked his figurine side-quest.. No I didn't like it, I loved it.. I loved to see that every picture he worked on turned into a figurine. It looked so awesome!
Well, I've never played the other game, and anyways, Carlov isn't a whore...
His side quest was my favorite in the game.
He's just...awesome. There's definitely something special about walking into a room that's full of figurines.

Everything about this guy reeks of badassness. Looking at the female form and making art (so, basically, you're making art of art, making some sort of Super-Art!) of it is a kickass pursuit in life. From his (vaguely French? German? Tay Zonday?) accent to his holier-than-thou attitude towards those lacking in the cognitive parts of the brain that makes us appreciate art fully, you know this guy gets up to some pretty wacky vernissages. He's got a great work ethic too, sticking to his artistic pride, come beautiful mermaids or laughably "gifted" hippos. I've got little to nothing to say about Carlov other than the fact that he's a disturbing creep. Look at him, over there. Holding a disturbing figurine of another creep. Creepy. Schule Donavitch, formerly of the Basterds, is the les enfants terribles of the Zelda art world tonight! --AuronKaizer! 00:16, November 1, 2010 (UTC)
AK's vote plus I don't want to vote for the other guy plus this guy is an alligator equals this vote. The™ 01:14, November 1, 2010 (UTC)
Not because I particularly care for this alligator, but just because Carlov drove me to hate him with his insanely long sidequest. Also, Schule doesn't wear a bad hairpiece.--MaloMart (talk) 15:33, November 1, 2010 (UTC)
Paintbrush and painter hat. Those two things (plus AK's vote, obiviously) are what make this guy awesome. - McGillivray227 21:42, November 2, 2010 (UTC)
Wind Waker!!!! not Link's Awakening.Bb2

Anonymous votes

It's been a while since I played LA, but this guy apparently made the statue from the end of the big item trade, plus he's a painting alligator. On the other hand, there's the sculptor guy. I went to all this trouble to glide to his little island just to find out I couldn't do anything there yet. Then I struggled with the annoying camera subquest and eventually gave up. And his Minish Cap equivalent is the jerk who made me listen to his explanation and sit through an extensive reveal EVERY SINGLE TIME I wanted to try for a figurine! Having the figurines and their information is cool, but it's just such a pain to get them. Also, why did this text tell me to make an anonymous vote?
I love Link's Awakening! I have to give my vote to the awesome alligator from LA! Without him, I wouldn't have ever beat the game! You rock Schule Donavitch!
Carlov, you don't get my vote because of how hard it was to take a picture of that damn bird. (See last week's votes for King Bulblin.)
This guy created a statue that has REAL MERMAID scales in it. Come On.

Peanut Gallery

This is why we can't stay with Wikia. The ToC will never be the same again, and the ToC is a intergal part of ZP. No two ways about it, and the ToC just looks god-awful as of now. -- C2 / CC 15:38, November 1, 2010 (UTC)

I know I've missed a lot and I probably sound stupid asking this, but why is Wikia related to the ToC's quality?--MaloMart (talk) 01:19, November 2, 2010 (UTC)

He's referencing how it is pushed to the left of the page in Oasis, not the Temple of Courage content itself. --EveryDayJoe45 (talk) 01:21, November 2, 2010 (UTC)

What is up with the third anonymous vote for Carlov?--Phantom Zelda ?!

LOL =]--Ingo the great (talk) 16:02, November 7, 2010 (UTC)

Predictably, the TOC looks fine in Monobook, though it's a bit bothersome that we have to manually search for it. Does anyone know how to format Monobook (assuming there's enough freedom to do so)? Jedimasterlink (talk) 03:37, November 4, 2010 (UTC)

@ Jedimasterlink waht are you talking about? just go to the main page of the wiki in monobook and click Temple of courage where it says "the current fight in the temple of courage is..."--Hylianhero777 (talk) 20:05, November 4, 2010 (UTC)

DERP. I completely forgot about that link... Jedimasterlink (talk) 23:05, November 4, 2010 (UTC)
"'King Bulblin'"



19 < 20

LAAAAAAAAAAAAAAAAAADIES AND GENTLEMEN! It's time, once again, for another battle in the TEMPLE. OF. COOOOOOOOOURRRRRRRRRRRAAAAAAAAAAGE!

In the purple corner we have a giant beast of a bird who is adapted to the Great Sea. Controlled by Ganondorf, this fearsome bird tries to kidnap the Princess and defeat Link. THIS. IS. HELLMAAAAAARRRRRROOOOOOOC KIIIIIIIIIIIIIING!!!

In the pale green corner we have a evil overgrown Bulblin, who appears multiple times in the game. Tries to knock Link off a bridge, set him on fire, and kidnap a little boy. THIS. IS. KING BUUUUUUUUUUULBLIIIIIIIIIIIIIIIIN!!!

LLLLLLLLLLLLLLLLLLLLET'S GET RRRRRRRRRRRRRRRRRRRRRREAAAAAAAAAAAAADY TO RUUUUUUMMMMMMMMMMMMMMMMMBLE!!!

Votes for Helmaroc King

Anonymous votes

Every time the Helmaroc King shows up, you know big, epic battle type stuff is going down, whereas by the third time you fight Bulblin, he's hardly a threat anymore. He's cool and all, but he's just not nearly as intimidating.
I liked the fight against Helmaroc King, even though I was very afraid that I would fall into the water while running to the top of the tower. I never liked horseback fighting, so no votes for Bulbin.
The Helmaroc King is somewhat dark but still has that legend of zelda feeling to him while Buldin just looks like a big green guy who rides a giant pig.
ithink helmaroc king is totaly awesome and would defnetly beat bulbin in a fight
Chubby green fatty freak vs B.A. bird thing yeah. guess who's gunna win. :-[
Liked WW much better than TP.
He looks like a Roc and they are sweet.
For one reason: Helmaroc King is not vulnerable anywhere on his body but his face. King Bulblin is stuck to the ground, unable even to wield a bow. How does he expect to win against a flying enemy when he himself cannot fly or shoot?

Votes for King Bulblin

Anonymous votes

Yay! First anonymos vote! Bulbin is like, invincible, for starters. He fell off like, every bridge in Hyrule and lived. He has a giant ax, and, frankly, he's smarter. He should have helped in the final battle, though. Helmaroc King is a giant idiotic bird with curly hair that dies the first time you actually fight him. I liked the fight with King Bulbin where he has the shield and you have to use the bow to defeat him. Wow, I made a long comment. :P
I won the battle against the Helmaroc (No idea how to spell that out) on my first try without even knowing what was actualy happening. And this guy is just awesome, he rides on a giant boar, he has an axe and a cool helmet.
I'm a Nintendo Gallery freak. Do you have any idea how hard it is to get a picture of that damn bird?
He's a pig...that talks. How cool is that?

Peanut Gallery

Helmaroc King's boss battle was fun! I liked running out of the flooding tower. Helmaroc king is also way more interesting than King Bulblin. Black Dragon Laguz 13:17, October 26, 2010 (UTC)

I won't get into this one; I love both of them for completely different reasons. --Ricorum (talk) 17:19, October 27, 2010 (UTC)
"'King Dodongo'"



19 > 14

LAAAAAAAAAAAAAAAAAADIES AND GENTLEMEN! It's time, once again, for another battle in the TEMPLE. OF. COOOOOOOOOURRRRRRRRRRRAAAAAAAAAAGE! This week we have two large combatants that roll up into spiky balls and attempt to run over our hero.

In the light brown corner, we have the bane of Dodongo's Cavern. This Infernal Dinosaur breaths fire and rolls around a pit filled with lava! THIS. IS. KIIIIIIIIIING DODOOOOOOOOOOOOONGOOOOOOOOO!!!

And in the orange corner, this miniboss of Unicorn's Cave is no pushover when it comes to spinning. Fast and dangerous, this tiger's speed will make your head spin! THIS. IS. SYYYYYYYGEEEEEEEEEERRRRRRRRRR!!!

LLLLLLLLLLLLLLLLLLLLET'S GET RRRRRRRRRRRRRRRRRRRRRREAAAAAAAAAAAAADY TO RUUUUUUMMMMMMMMMMMMMMMMMBLE!!!

Votes for King Dodongo

Anonymous votes

King Dodongo is a main boss, and Syger is a miniboss
rolling and breathing fire vs. rolling and... nothing
I'm an OOT fan, and I've never heard of syger before today, soooo... yeah.
I don't know who the tiger is but I bet the tiger can't throw bombs so King Dodongo is invincible!
Dodongo all the way he is cooler then a tigar
King Dodongo will be able to withstand any attack thrown at it. it shall win. Laharl13
the king of the kick-butt dodongos or a confused tigger... hmmm...
He's King, His game was more awesome, he's not a miniboss and most of all he is in 3D.

Votes for Syger

Anonymous votes

TIGERS OWN!!!!!!!!!!!!
I like tigers.
Give the little guy credit! He's original. I don't even know who King Dodongo is anyway.
Even though it's plain to see they had no inspiration whatshowever with this boss (it's just a sabertoothed tiger) he is cool. I mean, he spins on his side. When Kind Dodongo tries that, he falls into the lava pit..

Peanut Gallery

If someone else could finish up the opening, that would be great. I'm just trying to help out before I have to go so I don't have a ton of time. --EveryDayJoe45 (talk) 02:44, October 18, 2010 (UTC)

Close, exciting fight. That's what matters. I could care less about who wins, 'cause in my estimation, everyone wins here. --AuronKaizer! 10:18, October 21, 2010 (UTC)
Older Fights
| | |
| --- | --- |
| | Archives |
Community content is available under
CC-BY-SA
unless otherwise noted.