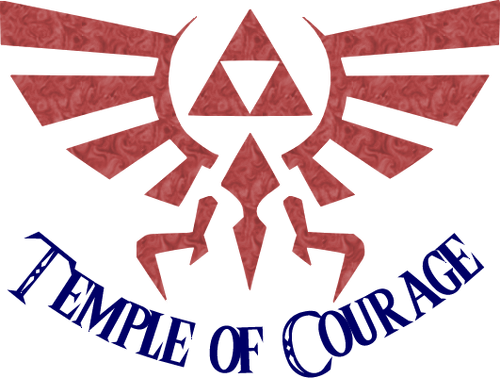 Welcome to the Temple of Courage, where various characters from the Legend of Zelda series battle out on a semi-weekly basis! You, the people, are the deciding factors in these matches. Functionally, all of these battles are popularity contests and not "battles" as such. For instance, in a boss vs. boss fight, we suggest that you vote for the one you like the most rather than whether or not one enemy would beat another in a legit fight. This is only a suggestion, though.
You can suggest a fight or vote or comment on others on the suggestions sub-article.
Rules
You may vote for your favorite or who you think would win in a competition between the two combatants that week.
You may only vote once.
If you are a user, please include your vote in the user section. If you are not a user, please include your vote in the anonymous section. However, any votes put in the anonymous sections will only count as a half vote.
When a new fight is created (the process should take no longer than a week, give or take a couple of days), the votes from the last fight will be totaled and winner decided.
Please sign your vote (unless you want to be counted as an anonymous vote) with a link to your username in front of your eventual voting text.
Don't try to rig the votes by entering multiple votes; these pages are regularly patrolled and you WILL face consequences if you are caught.
Please don't use talk templates.
Winner!
"Undecided"


LLLLLLLLLLLLLLADIES AND GENTLEMEN! For our 62nd week, we here at the Temple of Courage take a break from our normal fighting and instead bring you a dance-off to end all dance-offs!

In the purplish corner, we have a being who is no longer one with the realm of the seeing and breathing. His one lingering regret is that he could not find a subject unto whom he could pass on his life's work, his dance. Translation: IT'SSSSSS KAMMMMMMAAAAAAAAAARRRRRROOOOOOOO!

And in the red corner, we have a strangely familiar looking dancer. All day and night he tries to use the power of dance to control the flow of time, sadly ignorant of the fact that only song can do that. Lookin' good in tassles, glitter and fantastic hair, it's TOOOOOOOOOOOOOOOOOOOOOTT!

When two masters of the dance meet for a final showdown, who shall stand and who shall fall? That, good people, is up to you. Without further to do, LET'S GET READY TO RUMMMMMMMMMMMBLE! Yeah!

Votes for Kamaro

Even creepy half-naked ghosts are better than people imitating Elvis. Xykeb Yvolix Zraliv 17:12, September 1, 2009 (UTC)

Anonymous votes

Kamaro is awesome creepy. Tott is just creepy..
teaching the twins the dance was awsome and u couldnt have done it wwithout komaros help plus the way he talks is awsome

Votes for Tott

Anonymous votes

Peanut Gallery

I changed the color for Tott from simple red to something a little better. —Baltro [ talk · edits ] 17:23, September 1, 2009 (UTC)
Older Fights
| | |
| --- | --- |
| | Archives |
Community content is available under
CC-BY-SA
unless otherwise noted.