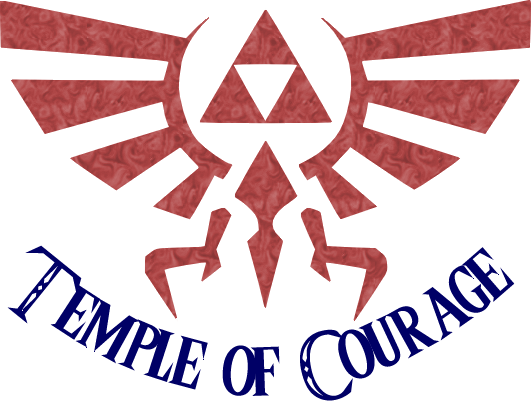 Welcome to the Temple of Courage, where various characters from the Legend of Zelda series battle out on a semi-weekly basis! You, the people, are the deciding factors in these matches. Functionally, all of these battles are popularity contests and not "battles" as such. For instance, in a boss vs. boss fight, we suggest that you vote for the one you like the most rather than whether or not one enemy would beat another in a legit fight. This is only a suggestion, though.
If you have an account and have at least 50 mainspace edits, you can suggest a fight or vote or comment on others on the suggestions sub-article.
Rules
You may vote for your favorite or who you think would win in a competition between the two combatants that week.
You may only vote once.
If you are a user, please include your vote in the user section. If you are not a user, please include your vote in the anonymous section. However, any votes put in the anonymous sections will only count as a half vote.
When a new fight is created (the process should take no longer than a week, give or take a couple of days), the votes from the last fight will be totaled and winner decided.
Please sign your vote (unless you want to be counted as an anonymous vote) with a link to your username after your voting text.
Don't try to rig the votes by entering multiple votes; these pages are regularly patrolled and you WILL face consequences if you are caught.
A short notification must be made before changing the fight.
Please don't use talk templates.
"'Undecided'"

LLLLLLLLLLLLLADIES AND GENTLEMEN!!! I welcome you to the 140th fight in the TEMPLE. OF. COUUUUUUURAAAAGEEEE!!! This week's contestants are two feminine friends of our protagonist. Let's met them now.

In the green corner is our hero's childhood friend hailing from Ordon Village. When the hero hurts his horse, Epona, while jumping fences, she takes her to the Ordon Spring to heal her. Later on, she loses her memory, and our hero must find her charm to return her memory. Shortly after this, she gives the hero the Horse Call, to, as the name suggests, call on Epona at any time. THIS. IS. ILLIAAAAAAAAAAAAAAAAAAAAAAAAAAAAAA!!!

In the azure corner is another fine lady, residing on Koholint Island. When our hero is shipwrecked, she saves him and brings him to her home, where he mistakes her for Princess Zelda. From this point on, she can be found singing the "Ballad of the Wind Fish" in Mabe Village. Later, our hero brings this lady to the Walrus blocking the entrance to the Yarna Desert, where she sings for him, getting him to move. THIS. IS. MARIIIIIIIIIIIIIIIIIIIIIN!!!

Who will win this battle (presumably over our hero)? I can't be sure, so LLLLLLLLLLLLLLLET'S GET RRRRRRRRRRRRREADY TO RRRRRRRRRRRRUMMMMMMBLEEEEEEEEE!!!

Votes for Ilia

Anonymous votes

Votes for Marin

Marin is awesome - she has awesome hair, she sings an awesome song, she lives on an awesome island, with awesome bros, and at the end she either gets wings (awesome) or becomes a seagull (awesome). She also has a crush on Link, d'aww. Marin also has some epic dialogue. Ilia is NOT awesome. She is ugly, stupid, she STOLE MY DAMN HORSE, she hits on Link and Link is like, WHOA HO, GTFO. She's also ugly and stupid. And human. And annoying. And she's creepy in that cutscene and SHE FALLS UPSIDE DOWN. Ilia is evil! -Stars talk 00:01, April 11, 2011 (UTC)
Ilia was weird. --EveryDayJoe45 (talk) 00:16, April 11, 2011 (UTC)
I Like Marin's hair.. ILIA IS WEIRD!! Who gets so mad just because there's a cut on a horse?? I Know who! CRAZY, WEIRD Ilia!! I also agree with Stars, she's creepy in the cutscene where she falls upside down. Marin is much better then her!-LinksGirlfriend

Anonymous votes

Somehow, Ilia's face looks awkward.. Besides, I love the Ballad of the Wind Fish, especially the version they made for and left out of Super Smash Bros. Brawl. And Marin's cute too.

Peanut Gallery
"'Them!"



9 < 23

LLLLLLLLADIES AND GENTLEMEN! We are now proud to welcome you to the 139th week in the TEMPLE OF COURAAAAAAGE! This week's fight brings us two secretive races that appear only to small children. Let's meet them now.

In the green corner, we have a race of incredibly small people. Don't be surprised if you can't see them, for they will only reveal themselves to small children. They can grant their size to others, have survived unnoticed for untold centuries, and only reveal themselves every 100 years. Standing in at less than an inch, give it up for THE MINIIIIIIIIIIISH!

And in the purple corner, we have a race of intergalactic travelers. Hailing from a galaxy far, far away, nobody knows their true names, and indeed, nobody but children know of them. They lurk in the darkness, steal cows, and perform lobotomies on all who see them. Let's hear it for THEEEEEEEEEMMMMM!

So, two ancient, secret races known only to children enter the ring today. But only one may leave victorious. Which one will it be? That, my dear voters, is up to YOU! I personally only see a ring, but the boys and girls in our audience inform me that they are really there, so LLLLLLLLLLLLLLLLLET'S GET READY TO RUMBLLLLLLLLLLLLE! YEAH!

Votes for Minish

Minish are just awesome! High chance of being killed by a foot, but still awesome!--LinksGirlfriend
I LOVE MY LITTLE EEVEEKINS, MY PRECIOUS LITTLE SNUGGLEBUNNY, MY WONDERFUL GUY, MY ONE AND MY ONL- oh, you mean THOSE minish... -Stars talk 01:39, April 3, 2011 (UTC)
Them they whatever I should call them are just annoying. Besides, they are the size of a thumb and were still able to give the Hero of Men the Picori Blade. --Birdman5589 (talk) 16:40, April 3, 2011 (UTC)
I guess I'll vote for the little guys (heh... little guys...), though it's pretty obvious who's won. --Ricorum (talk) 17:24, April 6, 2011 (UTC)
I don't remember ever seeing these guys lobotomize any ranch girls. Oh, and they're awesome. Sir Real (talk) 00:58, April 8, 2011 (UTC)
I just like them better. Heh, I like "them" better. How about I like theM[inish] better? --DekuStick Master 01:00, April 9, 2011 (UTC)

Anonymous votes

I don't even wanna know what the aliens did to Romani.. Seriously, the Minish are waaay nicer and appear only once in a hundred years while "Them" (or "They") appear every year to kidnap the cows..
Minish!!!!

Votes for Them

Anonymous votes

I remember fighting Them. I was taking some out in the distance, I turned, and-HOLYCRAPITSTHEM!!!!!!!!!! I nearly peed my pants :]
Them made more of an impression when they brainwashed Romani. Every once in a while, I'd purposely let Them enter the barn just so I can watch Romani screaming her head off as she's beamed up with the cows. And for the sole fact that I can proudly say "BEAM ME UP, SCOTTY!!" when Them beams everything up.
I HATED these things. Until my friend told me that the fact that I'd have to fight then twice as long is well worth the fact that they move half as fast, and to use the bunny hood while fighting.
Them are so cool and mysterious! And that wasn't bad grammar!
The side quest involving these things took sooo long. And they scared the shit outa me. There Just so much more awesome than the minish.
MEH.
Them scared the crap out of me. And when I defeated them for the first time, I fist-pumped the air so extravagantly that I was glad that no one saw.
I was going to vote for the Minish because i like them ALOT better and Them are weird. But then i remembered Ezlo. He was bad enough
User:ZeldaSatan Yeah im deffinately going with the more familliar race.
Notice a pattern from past weeks. Whenever MM things come up, they usually win. Anonymous Minish Voter number one, realize that many things from Termina are not good or evil. It's an extremely gray areas. Yes, Romani is the victim of Their raid, but we don't know who they are or what they intend with the cows. Like my brother. haha, anyway, about the minish, they help and make good things happen to Hyrule like fairies. I liked the little mousy non-blue smurfs in MC, and their universe is fascinating, there's no doubt... but they are not shrouded in mystery. For all we know the Minish have their own sins that Link never sees...? That's as far as I get with them. :) They win. These aliens. Classic too, the whole aliens after cows. Deserve an explanation though, in my opinion, someday... or maybe nerds like us need to find out their secrets on our own...
I'm not too familiar with either one, but it seems pretty obvious Them would win
Them was just all around amazing. The fact that aliens visit the LoZ series and that the fight was cool. They also redefined what it means to steal cows. My vote is with Them.

Peanut Gallery

You know what? After a year of not doing this, coming back to it feels really, really good. Even though the schedual has slipped a few times since I've been. Sincerely, Watcher.

Really, we should have waited until tomorrow to get things back on track. But the other one has gone on for over a week, so whatever. I'll roll with this. Just remember to do the archiving bit and everything whenever you do this. I'll handle it this time. --EveryDayJoe45 (talk) 18:35, April 2, 2011 (UTC)

Whoops. My mistake. Sorry, Joe. Sincerely, Watcher.

Wow. One sided this week. Course, it's all based on a bad pun, so.... Sincerely, Watcher.

MEH. Them are part of the scariest sidequest in LoZ history, in the best LoZ game. Of course their gonna win. Ike 18:07, April 7, 2011 (UTC)

SOMEONE HATES EZLO.

THIS DOES NOT COMPUTE. Sir Real (talk) 01:04, April 8, 2011 (UTC)
"'Igos du Ikana!"



10 < 15.5

LLLLLLLLLLLLLLLLLLLLLLLLLLADIES AND GENTLEMENNNNNNNNNNNNNNNNNNNNNNNNNNN!!! It's time for the 138th ultimate showdown in the TEMPLE. OF. COUUUUUUUUUUUUUUUUUUUUUUUURAAGE!!! This week's fight is between two mighty enemies that have the ability to use their detached heads in battle, and have a severe fear of light.

In the sand red corner, we have a famous thief who resided in Kakariko Village. At some point, he stumbled into the Dark World and became a servant to the King of Evil, Ganon, who assigned him to guarding Thieves' Town. The hero eventually ventures there to save one of the Seven Maidens, which he appears to achieve with considerable ease; however, on their way out, they happen upon a bright room, where it is the revealed that the Maiden is actually this villain. THIS. IS. BLIIIIIIIIIIIIIIIIIIIIIIIIIIIND!!!

In the violent violet corner is an ancient king of the realm of Ikana. Though the kingdom eventually fell, this mighty spirit returned from the grave to haunt the Ancient Castle of Ikana. He guarded the Castle, protecting it from outsiders and those who might bring light to the decrepit castle. The hero eventually infiltrates this castle and finds the Throne Room where this ancient King sits, and utilizes the light to defeat him. THIS. IS. IGOS DU IKAAAAAANAAAAAAAAAAAAAAAAA!!!

We know this match is exciting, but don't lose your head! ...Get it, because... Oh, nevermind, LLLLLLLLLLLLET'S GET RRRRRRRRRRRREADY TO RUUUUUUUUUMMMMMMMMMMMMBLE!!!

Votes for Blind

Anonymous votes

MEH
Point 1: He has a head-laser. Point 2: I love how he turns around. And point 3: What better way to defeat a boss (the second time) by smacking his head back to his headless body?!

Votes for Igos du Ikana

I really like this skeleton guy!--User:CerberuΣ GR 25px-The Guardian of Underworld 21:25, March 24, 2011 (UTC)
I really think Igos is a great character. There's a lot of depth in the words that he says about petty fighting and forgiving failures. Even though he turned evil and uber skeletal you can tell in life he would of been a really great king. If everybody followed Igos' philosophy we'd probably have a much better world, Oni Dark Link 22:03, March 24, 2011 (UTC)
I just might create a rift in the space-time continuum that destroys us all by doing this, but...what Oni said. Jedimasterlink (talk) 18:11, March 25, 2011 (UTC)
Igos is just plain awesome. King of the Twilight (talk)
I hated the other guy so much. The annoying pipsqueak posed as a maiden AND I THING IT'S A GUY!!! How wrong is that?!? I'm going with this guy (can't remember/pronounce name)! Blue Link 17:05, March 26, 2011 (UTC)
I found Blind annoying rather than hard, but Igos was pretty fun AND his henchmen were funny. Not to mention he was in MM. Ike 17:14, March 26, 2011 (UTC)
Played both games, Igos is awesome and blind... isn't. --Yorick141 (talk) 09:21, March 27, 2011 (UTC)
If I actually fought Blind, I might like him more, but Igos du Ikana is cool, too. The™ 00:11, March 28, 2011 (UTC)
Igos du Ikana's fight was actually fairly simple, but still really fun to play. The entire point of Blind seems kind of pointless to me. Igos has my vote. --SheikahPhilosopher 02:31, March 29, 2011 (UTC)
I hated having to find my way around Thieves' Town because he didn't want to exit through the front. --Hydropanda (talk) 02:21, April 2, 2011 (UTC)

Anonymous votes

I'm sorry, I just can't bring myself to vote for a guy in a dress over the king of a cursed kingdom. I just can't.
Holy Crap! It's about time it changed!!!!!!!!!!
No contest 1. He's a skeleton the awesomest of the undead.2.he can teach you how to make creepy Link statues.3.He thinks you're a giant skeleton when you put on the (skeleton) mask.
Obviously Igos. He is the king of a place. the other guy is not. arguement = invalid
This-guy-is-AWESOME!!!!!!!!!!!
As much as I love Blind, Igos is WAY better. I mean, he's the king of a cursed kingdom, he and his lackies have the most AWESOME banter, and the Elegy of Emptiness is the best song in the game. I mean who doesn't love the creepy statues the song makes?
Just look at him.
I LOVE majora's mask, and this guy reminds me of the only thing I fear about this game *shivers* BEN!!!!
Majoras Mask is better then Link to the Past. Also, the Elegy of Emptiness is very useful and Igos looks cooler.
He was my single favorite mini-boss (next to Dark Link) in all of Zelda. Also, MM is my favorite Zelda, and the whole part with Ikana was my favorite part. And props to number 8 for bringing up...BEN (still get shivers when I hear that name)
Aside from Majora's Mask being my favourite gamer period (ALttP was pretty cool though), I think Ikana was a better villain and victim of fate. Blind fell into the dark world, but he was a thief, and became a servant of Ganon, poor guy, but Ikana's king was... tragic. You felt for him, so as a character alone he stands out more than Blind, and he lost far more than Blind could ever dream of. Not unlike the feeling the King of Red Lions feels about Hyrule; a lost kingdom, ruined and all but extinct, but is still alive to feel it, because of a terrible fate. Blind? As far as we know he's a petty pickpocket, even if he was in charge of them all like Ganondorf was in a way. And personality's there too; Igos has this sense of "hey yo listen peoplz!" while his two vassals argue pointlessly, while Blind is just... Blind. Bland and pointless beyond the battle itself. Igos has deserved my vote, and will win this vote >) BWAHAA. And by the way, dude who posted above me, yeah I know, I believed it too, had trouble watching the old star wars trilogy because of it. Just call him Obi-wan! I have a friend named Ben, but still... >.<...

Peanut Gallery

Err...is anyone going to make a better intro??Devdude (talk) 03:00, March 26, 2011 (UTC)

Wow. Is it just me, or have things quieted down a lot since I was last here? C'mon, people. Get more active! Sincerely, Watcher.
Older Fights
| | |
| --- | --- |
| | Archives |