User:Darth Nightmaricus/Sandbox/Majora
Majora

Majora taking on the form of a Moon Child wearing its mask form.
Main appearance(s)
Other appearance(s)
Era(s)
Majora (pronounced /məˈdʒɔ:ɹə/ mə-JAW-rə)[1] is the entity occupying Majora's Mask, and the primary antagonist in the game of the same name.
History
Majora is first introduced after the Happy Mask Salesman removes the curse that was placed on Link by Skull Kid.
For a majority of the game, Majora in its mask form is worn by Skull Kid on the Clock Tower, drawing the Moon to Termina.[2] Although the Skull Kid is unaware, Majora is gradually beginning to take complete control of his mind, with his once harmless pranks becoming malicious acts of evil.[3] Prior to the game's events, Skull Kid used the power of the mask to prank and curse others around him, such as Kafei.[4]
After the Four Giants are called, Majora abandons Skull Kid and enters the Moon so that it can push it through the Giants' blockade and complete its destructive path.[5][6] Link then proceeds to follow Majora into the Moon.[7] Once inside, he finds four children wearing the boss Remains and Majora manifesting itself as a lonely child under a tree wearing Majora's Mask. If Link gives all his non-transformation masks to the four children, Majora will give him the Fierce Deity's Mask. He will then take Link to the final boss room.
After the young hero and Tatl defeat Majora, they return to the land of Termina where the Happy Mask Salesman informs them that the evil inside the mask has disappeared.[8]
Characteristics
Majora's Mask
When the battle starts, Majora's Mask comes to life and grows hairlike tentacles. To defeat it, Link must first stun the mask with any projectile by hitting it in the back. This will make the mask collapse to the ground, allowing Link to strike it with his Sword. Alternatively, Link can transform into Zora Link and use his Boomerang fins. When Z-targeting the mask, the fins will fly behind it, hitting its back. Additionally, Deku Link can burrow into the flower designs on the ground, protecting him from any attack. This also allows Deku Link to hit the mask as it flies over him. After the mask has taken enough damage, the four boss Remains will begin to attack Link as well, shooting energy bolts at him. They can be defeated by shooting Arrows at them. Majora's Mask will also start shooting fire beams at Link, which can be deflected back at the mask with the Mirror Shield. Majora's Mask can also use its tentacles to perform a whirling attack. The attack cannot be blocked, but it can be countered with a Spin Attack, causing the mask to become stunned.
Majora's Incarnation
After Majora's mask form is defeated, it loses its tentacles and grows a set of arms and legs, as well as a tiny, one-eyed head with horns. This form of Majora's Mask will run around the room, pausing every now and then to perform a variety of dances, including the moonwalk and Kozachok, pirouettes, and jumping jacks or to make taunting gestures at Link. Its only attack is a rapid-fire barrage of energy bolts it fires from its hands. To defeat Majora's Incarnation, Link must hit it with either his Sword or Bow when it stops dancing. When hit, it will fall to the ground on its face and flail about. After being struck a few times with the Sword, it will get up again. During the entire battle, Majora's Incarnation makes clucking and whooping noises, and emits a high-pitched screech whenever struck. Though seemingly weaker than its other forms, its speed makes it hard to hit.
Majora's Wrath
After the final scream from Majora's Incarnation is heard, it stands up to assume its final form. Its muscles then begin to throb and inflate into a more humanoid shape. Whip-like tentacles also shoot out from its hands, and a new head bursts forth from its neck, becoming Majora's Wrath. To defeat Majora's Wrath, Link must use a projectile weapon to stun it while it is immobile. He can then strike it with a Light Arrow or his Sword. It often jumps from one side of the arena to the other. Its attacks are fast-hitting, but slow to wind up, giving Link a window of opportunity to attack. Majora's Wrath attacks by whipping its tentacles three times, throwing giant spinning tops lined with spikes, grabbing Link and tossing him across the room, and using a furious whipping attack that is announced by shriek. Most of the Majora's Wrath's attacks have a long reach which allows it to attack numerous times in succession. Defeating Majora's Wrath causes the monster to disintegrate into ashes.
Non-Canon Appearances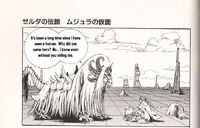 Majora's Mask (Himekawa)
In an extra chapter of the Majora's Mask manga by Akira Himekawa it is explained that before the time setting of Majora's Mask, there was an evil creature which fed on the desires of humans who had come to try and claim its armor and be granted their wishes. A traveler then comes forward to the place where the monster lived and starts talking with the creature, where he finds that the monster itself wanted to die, being so miserable. The man then proceeded to pull out his bongo and started playing. The monster went into a trance and started dancing. The traveler played for three days straight, and on the third day, the beast dropped dead from dancing. The traveler then took its magical armor, but instead of wishing upon it, he carved it into a mask in an attempt to seal the beast's power inside the mask forever. The mask was named Majora after the beast. The mask had a spirit because Majora's evil power lingered on inside the mask seeking a host, not resting until its wish was granted.
Trivia
Nomenclature
Mujura, the Japanese name for Majora, was created by Takaya Imamura, designer of the mask and art director for the original game. He created the word by combining Imamura, his last name, with Jumanji.[10]
Names in Other Regions
Language
Name
Majora's Mask
Majora's Incarnation
Majora's Wrath
Japanese
ムジュラの仮面 (Mujura no Kamen)
ムジュラの化身 (Mujura no Keshin)
ムジュラの魔人 (Mujura no Majin)
French

EU

Masque de Majora

Incarnation de Majora

Magicien Majora

German
Majoras Maske

Majora's Inkarnation

Majora's Magier

Italian

Maschera di Majora

(

MM3D

)
Spanish

EU

Máscara de Majora

Encarnación de Majora

Mago de Majora

Spanish

LA

Máscara de Majora

(

MM3D

)

Encarnación de Majora

(

MM3D

)

Ira de Majora

(

MM3D

)
Gallery
References