Welcome to the realm of Chuck

Administrator of Zelda Wiki

Zelda Collector

Hi, welcome to my user page! My name is Chuck and I've been playing Nintendo games since I have memory. My love for The Legend of Zelda series started back when I was around 7 years old, being Ocarina of Time my first Zelda game. Since then, my love for the series has grown to the point where I even got tattooed on my arms Hyrule and Lorule's Royal Crests, plus Breath of the Wild's Z icon during the series' 35th anniversary. I'm also a huge collector of official and licensed Zelda merchandise.
Game Completion
My Zelda Collection
Games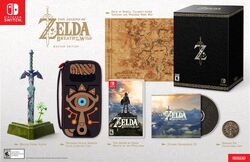 Game
Notes
The Legend of Zelda
Gold cartridge
The Adventure of Link
Gold cartridge
Zelda (Game & Watch)
2007 Mini Classics
The Legend of Zelda Game Watch
Red version
A Link to the Past
—
Link's Awakening DX
First edition
Ocarina of Time
Nintendo 64 Collectors Edition
Majora's Mask
Nintendo 64 Collector's Edition
Oracle of Ages
Foiled first edition
Oracle of Seasons
Foiled first edition
A Link to the Past & Four Swords
—
Master Quest
—
The Wind Waker
—
Collector's Edition
—
Four Swords Adventures
Cable bundle
The Minish Cap
—
Twilight Princess
Wii version
Tingle's Balloon Fight DS
—
Freshly-Picked Tingle's Rosy Rupeeland
UK version
Phantom Hourglass
—
Link's Crossbow Training
Wii Zapper bundle
Ripened Tingle's Balloon Trip of Love
—
Spirit Tracks
Limited edition
American version
Ocarina of Time 3D
Ocarina Edition
American version
Skyward Sword
Wii Remote Plus and CD bundle
The Wind Waker HD
American Limited Edition
A Link Between Worlds
Collectors Edition
American version
Hyrule Warriors
Treasure Box
Majora's Mask 3D
American Limited Edition
European Special Edition
Tri Force Heroes
—
Hyrule Warriors Legends
Treasure Box
Twilight Princess HD
Wolf Link amiibo bundle
Breath of the Wild
Master Edition
Explorer's Edition
Wii U version
Hyrule Warriors: Definitive Edition
—
Link's Awakening for Nintendo Switch
Dreamer Edition
European Limited Edition
Cadence of Hyrule
Physical version
Age of Calamity
Treasure Box
American version
Consoles
| Console | Edition |
| --- | --- |
| Game Boy Advance SP | Zelda Limited Edition Pak |
| Nintendo DS Lite | Special Edition Zelda Triforce DS |
| Nintendo 3DS | 25th Anniversary Special Edition |
| Nintendo 3DS XL | A Link Between Worlds edition |
| Wii U | The Wind Waker HD Deluxe Set |
| New Nintendo 3DS XL | Majora's Mask Edition |
| New Nintendo 3DS XL | Hyrule Edition |
| New Nintendo 2DS XL | Hylian Shield Edition |
Digital Downloads
Content
Notes
Games
Four Swords Anniversary Edition
Nintendo 3DS version
Tri Force Heroes
Demo
My Nintendo Picross: Twilight Princess
—
Age of Calamity
Demo
DLC
Expansion Pass
For Breath of the Wild
The Legend of Zelda × Mario Kart 8
—
3DS Home Menu Themes
The Impending Battle
Skyward Sword theme
Two Worlds
A Link Between Worlds theme
Hyrule Warriors Legends
—
My Nintendo: Link
—
30th Anniversary
—
Accessories
Accessory
Brand
Notes
Adventurer's Pouch Kit
PowerA
For Nintendo 3DS
Link Battle Pad
Hori
For Wii U
Skyward Sword HD
Edition Joy-Cons
—
—
Styluses
Plushies
Figures
Figure
Game
Series
Link
The Legend of Zelda
Ultra Detail Figure
Link
Ocarina of Time
Collectible Action Figure
Link
Ocarina of Time
Ultra Detail Figure
Zelda
Ocarina of Time
Collectible Action Figure
Ganondorf
Ocarina of Time
Collectible Action Figure
Link
The Wind Waker
Ultra Detail Figure
Link
The Minish Cap
Ultra Detail Figure
Link
Twilight Princess
figma DX edition
Zelda
Twilight Princess
figma
Link
Skyward Sword
Ultra Detail Figure
Link
Skyward Sword
figma
Link
Skyward Sword
Real Action Heroes
Link
Skyward Sword
World of Nintendo
SDCC 2015 Limited Edition
Link
The Wind Waker HD
Nendoroid
Zelda
The Wind Waker HD
Nendoroid
Tetra
The Wind Waker HD
World of Nintendo
Ganondorf
The Wind Waker HD
World of Nintendo
Trophy Series
Bokoblin
The Wind Waker HD
World of Nintendo
Link
A Link Between Worlds
Ultra Detail Figure
Link
A Link Between Worlds
figma DX edition
Link
Majora's Mask 3D
Ultra Detail Figure
Link
Majora's Mask 3D
Nendoroid
Deku Link
Majora's Mask 3D
World of Nintendo
Link
Twilight Princess HD
Ultra Detail Figure
Link
Breath of the Wild
Nendoroid DX edition
Link
Breath of the Wild
Real Action Heroes
Link
Breath of the Wild
Ultra Detail Figure
Zelda
Breath of the Wild
Nendoroid
Guardian
Breath of the Wild
Nendoroid
amiibo
| amiibo | Game | Notes |
| --- | --- | --- |
| Link | Super Smash Bros. 4 | First edition |
| Zelda | Super Smash Bros. 4 | First edition |
| Toon Link | Super Smash Bros. 4 | First edition |
| Sheik | Super Smash Bros. 4 | First edition |
| Ganondorf | Super Smash Bros. 4 | First edition |
| Young Link | Super Smash Bros. Ultimate | — |
| Link | The Legend of Zelda | 30th Anniversary |
| Link | Ocarina of Time | 30th Anniversary |
| Link | Majora's Mask | — |
| Toon Link and Zelda | The Wind Waker | 30th Anniversary |
| Link | Twilight Princess | — |
| Wolf Link | Twilight Princess | — |
| Link | Skyward Sword | — |
| Link (Archer) | Breath of the Wild | — |
| Link (Rider) | Breath of the Wild | — |
| Zelda | Breath of the Wild | — |
| Daruk | Breath of the Wild | — |
| Mipha | Breath of the Wild | — |
| Revali | Breath of the Wild | — |
| Urbosa | Breath of the Wild | — |
| Bokoblin | Breath of the Wild | — |
| Guardian | Breath of the Wild | — |
| Link | Link's Awakening (Switch) | — |
Gashapon
Gashapon
Game
By Yujin
Link
Twilight Princess
Wolf Link
Twilight Princess
Zelda
Twilight Princess
Zant
Twilight Princess
By Furuta
Link
Spirit Tracks
Engineer Link
Spirit Tracks
Link with Spirit Flute
Spirit Tracks
Spirit Train
Spirit Tracks
Phantom
Spirit Tracks
Zelda
Spirit Tracks
Alfonzo
Spirit Tracks
Big Blin
Spirit Tracks
Chancellor Cole
Spirit Tracks
Byrne
Spirit Tracks
Anjean
Spirit Tracks
Ferrus
Spirit Tracks
By TOMY
Link and Phantom Hourglass
Phantom Hourglass
Tetra and Heart Container
Phantom Hourglass
Linebeck and Green Rupee
Phantom Hourglass
Biggoron and Gongoron
Phantom Hourglass
Phantom and Force Gem
Phantom Hourglass
Link
Skyward Sword
Zelda
Skyward Sword
Child Link
Ocarina of Time 3D
Child Zelda
Ocarina of Time 3D
Link
Hyrule Warriors
Zelda
Hyrule Warriors
Ganondorf
Hyrule Warriors
Lana
Hyrule Warriors
Danglers
Keychains
Pins
| Pin | Game | Notes |
| --- | --- | --- |
| Fighter's Shield | A Link to the Past | — |
| Hylian Shield | Ocarina of Time | — |
| Hero's Shield | The Wind Waker | — |
| Hylian Shield | Twilight Princess | — |
| Shield | Spirit Tracks | — |
| Hylian Shield | Skyward Sword | — |
| Royal Crest | — | — |
| Royal Crest | — | Art & Artifacts release event |
Replicas
Replica
Game
Notes
Majora's Mask
Majora's Mask
First 4 Figures PVC statue
Wind Waker baton
The Wind Waker
Symphony of the Goddesses
Master Sword and
Hylian Shield
Twilight Princess
1/6 scale replica
Master Sword and Scabbard
Skyward Sword
World of Nintendo
Hylian Shield
Skyward Sword
World of Nintendo
Traveler's Bow, Arrows, Quiver
Breath of the Wild
World of Nintendo
Strategy Guides
Game
Notes
Nintendo Power / Nintendo of America
The Legend of Zelda
Tips & Tactics
A Link to the Past
—
Link's Awakening
—
Ocarina of Time
—
Majora's Mask
—
Oracle of Seasons / Oracle of Ages
—
A Link to the Past & Four Swords
—
The Wind Waker
—
Collector's Edition
—
Four Swords Adventures
—
The Minish Cap
—
Twilight Princess
—
Prima Games
Twilight Princess
Collector's Edition with cloth map
Phantom Hourglass
Collector's Edition
Spirit Tracks
Collector's Edition
Ocarina of Time 3D
Collector's Edition
Skyward Sword
Collector's Edition
The Wind Waker HD
Collector's Edition
A Link Between Worlds
Collector's Edition with framed lithograph
Hyrule Warriors
—
Majora's Mask 3D
Collector's Edition with character clings
Tri Force Heroes
Collector's Edition with screen cleaner
Twilight Princess HD
Collector's Edition with cloth map
Piggyback
Breath of the Wild
Deluxe Edition
Expanded Edition
Books
Manga & Comics
Soundtracks
Posters
| Poster | Notes |
| --- | --- |
| A Link Between Worlds | GamePlanet pre-order bonus |
| Breath of the Wild | GamePlanet pre-order bonus |
| Link's Awakening (Switch) | GAME pre-order bonus |
| Fairy Light | Symphony of the Goddesses |
| Master Sword | Symphony of the Goddesses |
| Majora's Mask 3D | Symphony of the Goddesses |
| Skyward Sword | Symphony of the Goddesses |
| 2017 Tour | Symphony of the Goddesses |
| Hyrule map | Art & Artifacts release event |
Clothing
| Clothing | Brand | Notes |
| --- | --- | --- |
| Champion's Tunic | Bioworld | — |
| Golden Logo tee | — | Symphony of the Goddesses |
| Sword & Shield tee | — | Symphony of the Goddesses |
Other Stuff
Object
Brand
Notes
A Link to the Past
Barcode Battler II
Epoch
—
Oracle series shampoo
—
—
Zelda Box
Enterbrain
—
Phantom Hourglass cel art
—
—
Skyward Sword steelbook
—
French GAME pre-order bonus
Cardboard Majora's Mask
—
Symphony of the Goddesses
Majora's Mask 3D wallet
Bioworld
—
Link's Awakening (Switch) cloth
—
GAME pre-order bonus
Link's Awakening (Switch) postcards
—
GamePlanet pre-order bonus
Green Rupee stress ball
Paladone
—
Lenticular Link shadowbox
ThinkGeek
—
Trump playing cards
—
—
The Legend of Zelda Monopoly
Hasbro
GameStop exclusive
Hyrule Warriors Legends
character book
—
GameStop pre-order bonus
Hyrule Historia postcard
Dark Horse
SDCC 2016
Symphony of the Goddesses
Second Quest program
—
—
Symphony of the Goddesses
Master Quest program
—
—
Animated series DVD
NCircle Entertainment
Collector's Edition