I have decided to make a Zelda story. It is after the events of Majoras Mask. Link goes on, after the Skull Kid is kind. He finds himself in Labrynna. Here he finds another adventure.
Ralph
Link was alone. He had no fairy, and was alone. "Aggghhh!!!" Link fell off his horse. "Watch it.. hey whats that on your hand!?! The Triforce of Courage!! Sorry, for not saying... I'm Ralph! We need to get to her, come on!!!" Ralph said. "Where am I?" Link said. "Termina, of course! I know a way to where she is though, come on!!!" They traveled far. "Stop. We are at the lost woods. You must be carf-" Ralph said, as he was grabbed by a floormaster. "Ralph? Ralph!" He ran towards where he was taken.
Level One-The Lost Woods
Info
New Enemies: Wallmaster, Floormaster, Stalfos, Stalchild, Redead, Gibdo, Snatcher, and Enlarmaster.

Deatails: Wallmaster: The creepy minions of Gigamaster. Unlike the Snatchers they have only one hand.
Floormaster: The most common minion of Gigamaster.
Stalfos: Skeleton Warriors. They appear various places, though are not loyal to that dungeons master.
Redead: Commonly found at graveyards. Only one appears in the forest, and is twice as strong. That one guards the Bunny Hood, and is Loyal to Gigamaster.
Gibdo: Not much info is known...
Snatcher: Enlarged Wallmasters. They have two hands.
Enlarmaster: The dominant race of the Lost Woods. It has a body underneath the ground, and its stomach has a seal, the only pain point.
Item: Bunny Hood
Details: A hood that makes you go faster.
Mini-boss: Skull Kid
Details: The now friendly Skull Kid from Termina.
Boss: Gigamaster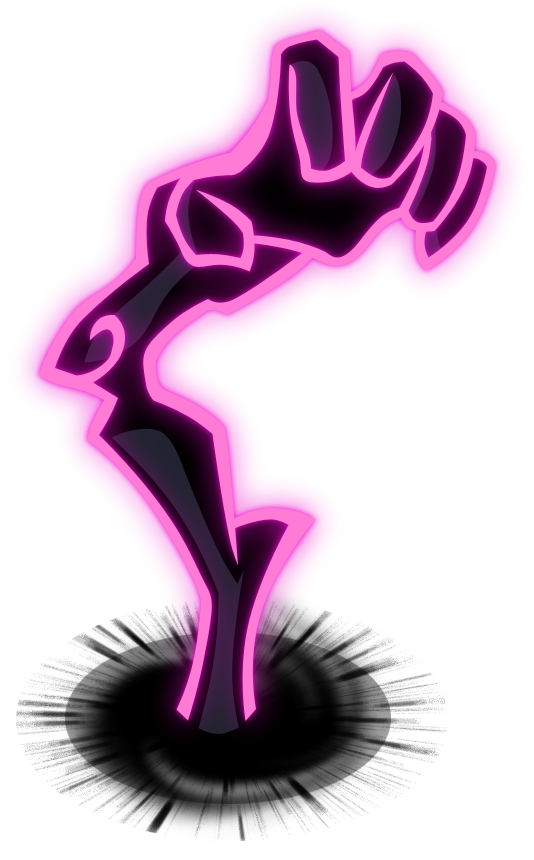 Details:The Largest Enlarmaster. It was mutated by an unknown thing. Boss of the Lost Woods.
Story
When Link managed his way to the mini-boss, he entered.
Inside, he saw the friendly skull kid, from earlier. "Lets play a game!!! Catch me, you get my special key!!!" He said. Link chased him around, and put the Bunny Hood on. He caught the skull kid and got the Boss Key!!
When Link found the boss door, he opened it and entered.
He saw the floormaster that took Ralph... But it gave Ralph to a Giant Floormaster.
GIANT SHADOW MASTER GIGAMASTER
He tried to attack but it went under the floor. It sent Floormasters to attack, but Link destroyed them. Gigamaster stayed above ground for abour three seconds. He used the Bunny hood and attacked. It fell dropped Ralph, and its hand released a heart container.
Nayru
"Sorry about that, Link. But we must see Nayru, and NOW!!!" Ralph said. He lead Link to an odd part of the Lost Woods. Animals were surrounding a singing voice.
"Ah, ah, ah. Ah, ah, ah. Ah, ahhhhhhhhhhhh!!! Ah, ah, ah. Ah, ah, ah. Ah, ahhhhhhhhhhh!!!"
"Na-Nay-Na-NAYRU!!!" Ralph said.
"Ralph? What is it?" Nayru said.
"I... I found him..."
When Ralph told his story, Link told Nayru of Navi. She said, "I knew a fairy named Navi."
"You did!"
"Yes... she... she went back to Hyrule for you. She came back with a boy named Al. Both were looking for you."
"Oh..."
"But... Al is still here."
Link met Al, and they were talking all day.
NOTE
The above was a tutorial. Now it is...
Old Hyrule Market Town
Nayru will send you to OH (Old Hyrule, not Ohio) Market Town. She will first give you a better sword: The Gilded Sword. The first place you should go is Dibbits fine Armor & Equipment. Here you can get:
SWORD CASE - 70 RUPEES
WOODEN SHIELD - 50 RUPEES
HYLIAN SHIELD - 130 RUPEES
BOW - 200 RUPEES
BOW CASE LV.1 (30 ARROWS) - 50 RUPEES
BOW CASE LV.2 (60 ARROWS) - 170 RUPEES
BOW CASE LV.3 (90 ARROWS) - 390 RUPEES
BOW CASE LV.3.5 (99 ARROWS) - 20 RUPEES
BOW LOCK-ON - 200 RUPEES
SWORDSMAN SCROLL ONE - 50 RUPEES
SWORDSMAN SCROLL TWO - 150 RUPEES
SWORDSMAN SCROLL THREE - 250 RUPEES
SWORDSMAN SCROLL FOUR - 350 RUPEES
SWORDSMAN SCROLL FIVE - 450 RUPEES
SWORD ENLIGHTMENT (FASTER SWORD SWINGS) - 200 RUPEES
Your wallet can hold 99 rupees. What you have to have is the Bow, the Sword Case, and a Wooden Shield, plus a Bow Case Lv.1. After going here, visit Dumpets (Brother of Dibbits) Mixer. Here you can get:
RED POTION - 50 RUPEES
GREEN POTION - 30 RUPEES
BLUE POTION - 120 RUPEES
BOTTLE (2 IN STOCK) - 50 RUPEES PER ONE
Here, you need a bottle. Next go to the Fortuna Del Greataet Halleoa (Translation: Fortune done great: Hall eoa). This store is run by Hall eoa. Answer:
Question:
1 - Yes
2 - Yes
3 - No
4 - Yes
5 - No
6 - No
7 - No
8 - No
9 - Yes
10 - No
Do this to get: THE LENS OF TRUTH!!! If you still need more money to afford the needed supplies (No, don't leave, the guard will stop you), you can go south of the village to Ingo Racing. It is run by Ingo, because this is the old Lon Lon ranch, and Malon and Talon left. Here you can race him for 10 rupees, but if you win, you get 40 rupees. After affording the supplies, you can exit the Market Town north.
Encounter with the Bull Rider
Once going north, you will be in North Hyrule Fields. Just walk a little, and you will see something very similar looking to Phantom Ganon (From OoT). He will ride up to you, and say that you can't try to save the Old Hyrule, it is where the master will be revived. After that he will ride into the sky.
Community content is available under
CC-BY-SA
unless otherwise noted.