Introduction
Please feel free to ask me anything on my talk page! Whether it's about one of my edits, a page I started, a page you want me to create, my Timeline Theory, a general question, or you just want to get to know me, I'll be more than happy to answer. Also, I've recently taken a liking to designing userboxes. If you'd like me to make one in particular, feel free to ask! —Alter  {T C B H }
This user often has their uploaded images Borrowed ! Give credit where it is due.
|}
● MSN: bible-man
● Skype: alterreborn
● E-mail: bible-man[at]hotmail.com

---
Biography
The following information about me (you can call it a bio) was originally written by my good friend, Anon. I've drastically edited it over time.
It's in the third person for your reading enjoyment.
Alter- The Early Years
Alter grew up without using many electronics, as his parents had see how addicted some of his other family members had become. His first game was The Legend of Zelda: Link's Awakening.
After thoroughly enjoying Link's Awakening, and becoming quite familiar with it, the word "Zelda" caught his eye one day, and he found some of the old Ocarina of Time action figures. At this point, he realized that Zelda was not merely a game, but a franchise. At this point, he became a Zelda fanatic, and bought several other Zelda games.
After playing through all of these games, he realized that there must be a large fan community on the Internet, similar to that of the Star Wars community he had recently discovered.
Early Zelda Community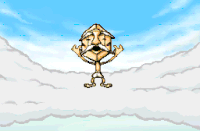 In late 2001, Alter joined a website, known as "lozfans.com". He played a relatively inactive part there, other then occasionally making a news release, etc. He was nominated for staff by one of the moderators that he had befriended, known as Anon, and he received the position without hesitation. He stayed there for about a year-and-a-half, before realizing that the site was going nowhere.
The ZeldaReborn Era
Alter went on to form his own Zelda fansite, which he dubbed "ZeldaReborn". Although small, it was quite successful, and brought in a decent amount of advertising revenue. He had been getting a little tired of the website, however, as larger sites began "borrowing" parts of his community.
In 2005, Alter sold the site to Randy Sultis for an undisclosed amount. About this time, Jason Rappaport had purchased ZU. Alter ventured to the site, using a different name, curious as to what many members saw in it. Frustrated with many of the staff members, there were a few brief skirmishes. Alter left the site in an outrage, taking some of it's members with him, although the issue soon was forgotten.
B.U.G.
At this point in 2006, ZeldaReborn was simply turned into an advertising/affiliate site, and for the most part, was no more. Alter, along with well known Super Smash Bros. community member, MasterWarlord, created an all-around Nintendo gaming website know as B.U.G. (note that it doesn't actually stand for anything). The site launched with power, hosting some of the best articles around. Along the way, they picked up the Zelda and Mario community member Shellshocker, who ran most of the technical stuff.
This continued until mid 2007, when the gang decided to start an actual community, rather than an informative site. Things were going well during the planning stage, until B.U.G. was shut down for a few weeks to upgrade the entire site. Shellshocker disappeared during this period. He just so happened to be the only one who had the guides/walkthroughs/reviews, etc. It is assumed by the message that appeared on his blog that he was killed in an automobile accident, although there is suspicion that it was simply a hoax.
In the aftermath, B.U.G. had lost its technician, its data, and its domain. Yet they still tried to pick themselves up. Not being tech savvy guys, they had to with a Freewebs site. That word itself meant that they lost half of their fanbase, and when the rest found out that B.U.G. had no remaining articles, they left the website in the dust. This continued for almost a year, until they finally decided to put the site in a closed status.
Zelda in my Pocket/Zelda Wiki
Alter hung around here and there, and eventually found his way to Zelda Wiki in June of 2008. After a few months, he created a profile and began working hard on the site.
When Alter visited the ZeldaWiki in 2008, he saw an ad looking for content writers for a brand new site, known as Zelda in my Pocket. The site was run by Duncan "Hylie" Ruffle, who Alter had heard good things about. Alter joined the staff, and promptly started working on the site. He bumped into Anon, the same staff member that had helped him out at lozfans.com. They spent some time catching up, and continued to build the site.
During his stay at ZimP, Alter found out that Hylie was good friends with Mases Hagopian, the webmaster of Zelda Dungeon. Alter had only heard slander come toward that site, but it was perfectly understandable, as most of the past sites he had worked with had been rivals with ZD.
Shortly after, Alter and I had gathered that Hylie was having health problems. After no word for a few months, we knew that something was wrong. Alter had recently been hanging out at ZD, and offered to join the staff if ZimP fell through. In March, 2009, Alter was the first person to receive word that Hylie had passed away due to cancer from one of Hylie's close friends who also worked at ZimP.
Zelda Dungeon & Ordon Village
Shortly after the end of the ZimP saga, Alter began working for Zelda Dungeon. As an active member on the forums, he quickly obtained the rank of [Hylian Hero]]. He continued his job there until late May, when he left the website unexpectedly, resigning as a both staff member and a Hylian Hero. During that period, he was not seen around the Zelda community, except for occasional edits on ZeldaWiki.org. After a few months, he became much more active on ZW, and joined Ordon Village as a content writer, a site which had been recently obtained by many of his acquaintances from Zelda Dungeon. In August '09, he was promoted to the rank of autopatrol at ZW, and shortly after on the 28th, he became a webmaster of Ordon Village. He was appointed as a replacement for Alexander, the previous owner of the site who had suddenly left in the last few days.
He worked on fulfilling his role as webmaster at OV, and remained quite active on ZeldaWiki.org. He wasn't often seen on other community forums during that point in time, which felt odd to him, as he had always jumped around from site to site. He'd finally found his home, and lived there happily ever after. ...Or so he thought...
Zelda Wiki Departure/Return of ZimP
In early January 2010, Alter departed from Zelda Wiki after a disagreement on Wiki policy. He had planned for quite some time to restart Zelda in my Pocket, and saw an opportune moment in which to do so. He started the website with a small amount of staff, and decided to dedicate it in Hylie's memory. The site is still being built as of now, but is rapidly growing due to the effort Alter put into it.