Tracy
Race
Gender
Main appearance(s)
Other appearance(s)
Era(s)
Tracy is a recurring character in The Legend of Zelda series.[2][note 1][name reference needed]
Biography
Link's Awakening
Tracy inhabits the Koholint Prairie. She is an expressive young woman who owns her own Health Spa where she sells Link her Secret Medicine.
Other Appearances
Captain Rainbow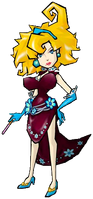 Crazy Tracy appears as a cameo in Captain Rainbow,[4] behaving drastically differently from her Link's Awakening iteration. She is usually just referred to as Tracy. Like other characters in Captain Rainbow, she is heavily caricatured, having overly large breasts.
Tracy resides in a mansion on Mimin Island where she can be often found sitting or her throne. She enjoys using her feminine wiles and her wish is to enslave all men in the world. Tracy stores various things in her cleavage, including strawberry Pockys, which she can be seen nibbling. She has portraits of Mario, Link from Twilight Princess, and an empty portrait frame above her throne. At night, she can be found powdering her face in front of her mirror or taking a bath behind a shower curtain.
The protagonist of Captain Rainbow, Nick, can take part in a quiz hosted by Tracy. He can also help her enslave Takamaru, who actually have problems with seeing and even just thinking of women since he gets very easily excited, but eventually manages to endure the look of Tracy. A portrait of Takamaru pops up between the Mario and Link portraits after Tracy has enslaved him. Furthermore, the Famicom Soldiers seem to be fans of Tracy, since they can be occasionally seen privily watching Tracy in her mansion.
Nomenclature
Names in Other Regions
Language
Name
Meaning
Japanese
気まぐれトレーシー (Kimagure Torēshī) (

LA

)
Whimsical Tracy
French

EU

Monique la Lunatique (

LA

)[5]
Monique the Lunatic
German
Geierwally (

LA

)
Vulture Wally
This table was generated using translation pages.
To request an addition, please contact a staff member with a reference.
Gallery
See Also
Notes
↑

Tracy

was referred to as Crazy Tracy in all versions of Link's Awakening prior to Link's Awakening for Nintendo Switch. However, as this contradicts the name given in Link's Awakening for Nintendo Switch, it is not considered Canon.[3]
References