For the dungeon in Spirit Tracks also known as the Tower of the Gods, see Tower of Spirits.
The Tower of the Gods is a sacred tower used by the Gods to test the courage of potential heroes.[1] The tower's main item is the Hero's Bow, and the Command Melody is also learned here.
Entrance to the Tower
The tower is hidden deep under the waves and requires all three of the Goddess Pearls to pull it from the depths. Link must travel to three Triangle Islands and place the correct Pearl on their respective statues. The final statue will then explode and send Link shooting through the air and slamming into a giant wall. Luckily, the King of Red Lions arrives and guides Link into the entrance of the Tower.
The dungeon combines elements of water and light, and is separated into three territories: In the first floor, Link and the King of Red Lions have to move through the water (and with great difficulty, considering the fact that the wind is not blowing here), whose level goes up and down at certain times. As Link explores the rooms, he has to take advantage of the water's changing level so that he can bring statues that open new paths, and ultimately close the main source of water to open new ones so that the path leading to the second floor can be crossed.
Once there, Link has to separately guide three semi-sentient statues (named Servants of the Tower by the King of Red Lions)[2] through various obstacles to the central altar. Doing this gives him access to the third floor. There are three destinations on the second floor, each with one statue; Link eventually finds and learns the Command Melody to telepathically control the statues and bring them to the altar, then finds the Hero's Bow to shoot distant targets that activate elevators and platforms.
Once Link reaches the third floor, he solves a puzzle that rewards him with the Big Key, then finally crosses a staircase patrolled by Kargaroc birds and some Beamos to find the boss's lair. The tower is guarded by Gohdan, a giant floating head and pair of hands, and who serves as the ultimate challenge for the chosen one who visits the tower in search of his fate's goal. The entrance to flooded Hyrule is nearby this tower, only accessible after the dungeon has been beaten and the bell at the top rings (oddly, that area is accessible only once under normal conditions).
Small Keys
There are two small keys.
Minor Enemies and Traps
Trivia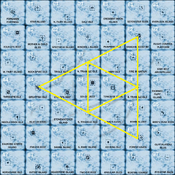 Nomenclature
Names in Other Regions
Language
Name
Meaning
Japanese
神の塔 (Kami no Tō)
Tower of the Gods
French
Tour des Dieux
Tower of the Gods
German
Turm der Götter
Tower of the Gods
Italian
Torre degli Spiriti
Tower of the Spirits
Korean
신의 탑 (Sin-ui Tab)
Tower of God
Spanish

EU

Torre de los Dioses
Gallery
References