St. GIGA was a satellite radio company responsible for developing the various "BS" titles for the Super Famicom system. The Legend of Zelda titles included BS The Legend of Zelda, Ancient Stone Tablets, and a port of A Link to the Past, which were solely created for the Satellaview. St. GIGA neared bankruptcy in 2001, and has since then become somewhat dormant. There were several attempts to revive the broadcasts, but most of them quickly fell flat. The only notable one took place in 2007, where there were actual broadcasts.
History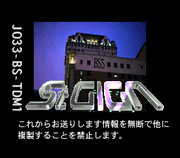 St. GIGA was founded on April 2, 1990 as a satellite radio broadcasting company subsidiary of the Japanese satellite television company, [Wikipedia:WOWOW WOWOW].[1] Over the next several years, St. GIGA continued to upgrade to more powerful stellites as their popularity increased. After partnering with Nintendo, St. GIGA began their broadcasts on Satellaview. The first air date was April 23, 1995. These airings included many games, such as the BS The Legend of Zelda and BS Mario series. This continued for four years, until Nintendo dropped the partnership, likely due to the fact that the programs were only for the Super Famicom/Super Nintendo, which had been outdated by the Nintendo 64 at that point.
Trivia
Each of the first six Dungeons in the first BS The Legend of Zelda quest are in the shape of a letter. When put together, it spells out St.GIGA.

References
Names in Other Regions
Language
Name
Japanese
セント・ギガ (Sento Giga)