Sahasrahla's Wife is a recurring character in The Legend of Zelda series.[1]
Biography
A Link to the Past
Sahasrahla's Wife resides in Sahasrahla's House. When Link heads out to Kakariko Village in search for Sahasrahla, he instead finds her there. She informs Link that Sahasrahla is not home, and has not been seen ever since Agahnim began kidnapping the Maidens. She tells Link about the Hylia and the treasures they hid throughout Hyrule, including the Master Sword.[3] She also tells Link to search around the Village for someone who will know more about Sahasrahla's whereabouts. Later on, she compliments Link on his appearance and requests him to save Hyrule from Agahnim.
Other Appearances
Ancient Stone Tablets
A Link to the Past (Ishinomori)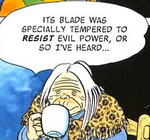 In the A Link to the Past comic by Shotaro Ishinomori, Sahasrahla's Wife is left under the care of Sahasrahla's Grandson since the old man has departed for the Eastern Palace. He meets her when first visiting the village and learns about his depart from the town.[4] When Link tells her that he is looking for the Master Sword, the old woman tells him the legend of the sacred blade, of its creation, and its location.[5]
When Link is about to head to the Desert of Mystery, Link returns to Sahasrahla's House where his Wife warns Link that traveling through the desert will not be easy since the "fierce winds and shifting sand" have bested even the most capable adventurers, which leads Link to use a glider found by Sahasrahla's Grandson instead.[6] Sahasrahla's Wife is last seen in Chapter five, where she helps build a giant air balloon for Link so that he will be able to land atop Hyrule Castle and confront Agahnim.
Nomenclature
Gallery
See Also
References