Quill is a character in The Wind Waker.[2]
Biography
Quill is a young, kind, and diligent Rito who serves the population of the Great Sea as their premier postman.[3] Quill supervises and keeps up with Link throughout a significant portion of his journey through his job: he sends Link important letters from his Grandma and from around the Great Sea, wherever they are found. Because the Rito have the exclusive ability of flight, Quill's job as a postman takes complete advantage of his well-tuned traits, perhaps even more so than his Valoo-worshiping colleagues.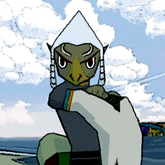 On Outset Island in the beginning of Link's journey, Quill convinces Tetra and her Pirate Crew to provide Link passage to the Forsaken Fortress in order to rescue his sister, Aryll, from the grasp of the Helmaroc King.[4] Later, he escorts Link into the Rito headquarters on Dragon Roost Island where he converses with the Rito Chieftain about the fate of the Rito species and the reclusive nature of the Chieftain's son, Komali.[5] After Link receives the Farore's Pearl from the Great Deku Tree and travels to Greatfish Isle, Quill appears and reveals the cause of the island's demise and the whereabouts of Jabun, the keeper of Nayru's Pearl.[6] In his final appearance, he joins up with Komali and Valoo to rescue Link and Tetra from the grasp of Ganondorf at the Forsaken Fortress after Link obtains the Master Sword. From here on, Quill's only correspondence and significance to Link's journey is through the various letters that he sends out to him across the Great Sea.
Nomenclature
References