Princess Ruto
"Ruto" redirects here, for the location, see Ruto Town.
Princess Ruto

Artwork of Ruto as an adult from Ocarina of Time
Pronunciation
Title(s)
Race
Gender

Female

Main appearance(s)
Other appearance(s)
Era(s)
Family
Voice actor(s)
Counterpart(s)
Princess Ruto,(OoT)[3] also known as Ruto,(HW)[5] and The Aquatic One,(HW)[6] is a recurring character in The Legend of Zelda series. She is the daughter and only child of King Zora, the ruler of the Sea Zora population residing in Hyrule, and serves as the attendant of the Zoras' patron deity Lord Jabu-Jabu, preparing his meals.[7] As a child, Ruto appears to be a tomboy and is shown to be very strong-willed and stubborn even in the face of danger, a trait she would temper and yet benefit from in her adult years when danger once again threatened her people.[8] Though she initially shows a selfish streak in her youth,[9] she grows to become much more benevolent in her adult years, especially after she is awakened to the knowledge that she is the Sage of Water that guards the Water Temple beneath Lake Hylia.
It is implied that Ruto's mother passed away some time before the events of Ocarina of Time, though she gave Ruto the Zora's Sapphire at some point in her youth. Ruto's mother told her that the stone serves as the so-called "Zora's Engagement Ring" by tradition, and instructed her to give it to the man that would one day become her husband.[10]
Biography
Ocarina of Time
Ruto is first mentioned when Link comes to Zora's Domain in search of the Zora's Sapphire in Ocarina of Time.[11] When Link arrives, Zora's Domain has been thrown into a state of disarray with the sudden disappearance of Ruto, the Princess of the Zoras. After learning of Ruto's disappearance and earning the Silver Scale from the Zora diving game, Link makes use of the object to investigate Ruto's disappearance, as her father does not seem to be able to give any attention to Link's quest for the Spiritual Stone of Water while his daughter remains missing.[12] Taking the shortcut leading from Zora's Domain to Lake Hylia, Link discovers a bottle with a note inside it at the bottom of the lake. The note is signed with Ruto's name and reveals that she has been swallowed by the Zoras' patron deity, Lord Jabu-Jabu, and requires rescue.[13] Showing the letter to King Zora, the Zora ruler commands Link to rescue his daughter and allows him access to see Jabu-Jabu.[14] It is later revealed that Ruto accidentally dropped the Zora's Sapphire inside Jabu-Jabu and lost it.[15] Instead of getting help, Ruto chose to go deeper within Jabu-Jabu hoping to find the stone on her own.
Link finds Ruto fairly quickly upon his entry into Jabu-Jabu's belly.[16] The feisty Zora princess denies knowledge of the letter Link had found in Lake Hylia and initially tries to deny any need for assistance, telling Link she could care less about her father's worry and ordering him to leave her.[2] However, Link continues to pursue Ruto, attempting to convince her to either come with him or accept his help in recovering what she had lost.[17] Ruto eventually reconsiders her opposition to the idea and accepts Link's assistance, deciding to have him carry her around Jabu-Jabu's interior while they search for the Stone together.[18] In this manner, the duo begins to search Jabu-Jabu's belly for the lost Stone, with Link carrying Ruto while also using her to weigh down switches and occasionally kill enemies by throwing her at them. Eventually, the two find the Stone resting upon a raised platform deep within Jabu-Jabu's belly. Link tosses Ruto up onto the platform, where she recovers the Stone,[15] though this causes the platform to rise into the chamber above them with Ruto still on it. The platform descends again carrying a Big Octo, which Link is forced to battle. After defeating the beast, Link jumps onto the platform and rises into the chamber above, but finds no trace of Ruto.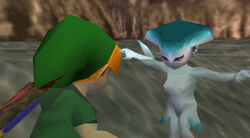 Eventually, Link is forced to battle against Barinade and, once he defeats it, Ruto is shown waiting for him. The visibly shaken Zora princess scolds Link for the time it took him to rescue her, but the two are soon transported outside via the portal.[19] Once outside Jabu-Jabu's belly, Ruto's demeanor toward Link changes entirely, with the Zora princess having grown quite fond of him and asking him what reward he would ask for rescuing her and helping her recover the Spiritual Stone.[20][21] Link requests the Zora's Sapphire, and Ruto happily hands it over to him, calling it her most "precious possession" and revealing that the Stone effectively acts as the "Zora's Engagement Ring",[11] meaning that she now considers the two of them engaged to be married. Despite this, Link is unaware of his engagement to Ruto, only knowing that he had finally obtained the three Spiritual Stones.[22]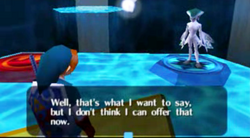 Seven years after Link is placed into suspended animation by the Master Sword, evil returns to Zora's Domain when Ganondorf uses the power granted to him by the Triforce of Power and causes the entire area and its inhabitants to be frozen under a thick layer of Ice. This fate also befalls Ruto initially, but she is rescued from beneath the cursed ice by Sheik. She then goes to the Water Temple in the hope of finding a way to save her people from being eternally frozen.[23] This is where she and Link meet again for the first time in seven years. Though Ruto is happy to see him, she is aware that this is not a time to talk about love. Ruto asks Link to assist her in saving the Zoras by destroying the monster at the heart of the temple and informs him on the workings of the Water Temple.[24] After this, Ruto leads Link into one of the temple's upper chambers but mysteriously vanishes. Link does not see her again until he defeats the Giant Aquatic Ameoba Morpha, the monster responsible for the sad state of both Zora's Domain and the nearly dry Lake Hylia. Inside the Temple of Light, Link learns that Ruto is the new Sage of Water that guards the Water Temple. She tells Link that she still loves him, but their engagement must be put on indefinite hold due to her duty as a Sage, and he must continue his search for Princess Zelda.[25] Right before he returns to Hyrule, Ruto gives him the Water Medallion,[26] and asks him to thank Sheik for saving her if he sees him again.[27]
Ruto appears within the Water Room inside Ganon's Castle after Link dispels the Water Barrier protecting the castle, where she urges Link onward to rescue the captive seventh Sage and Leader of the Sages, Princess Zelda. After Link defeats Ganondorf both in his Gerudo form and in the form of the Dark Beast Ganon, Ruto combines her power with that of the other Sages to cast Ganondorf back into the tainted Sacred Realm and to create a powerful seal that would imprison him there. She is last seen alongside several of the other Sages atop Death Mountain, overlooking a jubilant Hyrule now freed of Ganondorf's evil tyranny.
Minor References
The Wind Waker
While Ruto does not physically appear in The Wind Waker, one of the stained glass windows in Hyrule Castle's basement, where the Master Sword now rests, depicts her as the Sage of Water. The fact that the Rito evolved from the Zoras combined with the fact that Laruto, another Zora sage with a very similar name, is Medli's ancestor, has led some to believe that Laruto is a relative or descendant of Ruto.
Phantom Hourglass
Treasures called Ruto Crowns appear in Phantom Hourglass, where they are said to have been worn by a Zora princess.[28]
Spirit Tracks
Ruto Crowns reappear in Spirit Tracks, where they are said to have been worn by many princesses of the Zora royal family.[29]
Breath of the Wild
In Breath of the Wild, the Divine Beast Vah Ruta was named in honor of Ruto.[30]
Other Appearances
Ocarina of Time (Himekawa)
Ruto largely fills the same role in the Ocarina of Time manga by Akira Himekawa as she did in the actual game, though there are some slight differences that can be seen in her character when comparing the two. In the story of the manga, Ruto is swallowed by Jabu-Jabu intentionally, as she hopes to escape an engagement to a suitor presented to her by her father whom she deems unacceptable. After Link saves her, she grows quite fond of him and grants him the Zora's Sapphire in rebellion against the marriage her father was attempting to arrange for her. As in the game, she comes to truly believe she and Link are destined for marriage following these events. In this take on the story, she seems to be far less tolerant of her father, ill concealing that she considers him annoying. She also makes a habit of saying 'Zora' at the end of her sentences.
Hyrule Warriors
In Hyrule Warriors}, Princess Ruto appears as a playable Warrior. She is based on her slightly redesigned adult form in Ocarina of Time 3D. She wields the Zora Scale, which she uses as a medium for water magic. Similarly to Lana, she can be considered a wizardly character, as her moveset often consists of area-of-effect attacks, such as forming whirlpools, a giant sphere of water which she uses to trap her enemies and unleashing wide splashes. She has a unique mechanic where executing her combos causes a blue gauge to fill. At any point, she can use the gauge to fire off long-range waves of water that plow through enemies.
In Legend Mode, Princess Ruto first appears in the Scenario "Land of Myth", where she has been taken hostage by Darunia and held in Death Mountain. The Hyrulean Forces, led by Impa and Sheik, come to her rescue and defeat Darunia. It is then discovered that Darunia was being manipulated by an outside force. Princess Ruto, along with Darunia, then accompany the Hyrulean Forces as they venture to locate and close the Gate of Souls in Lake Hylia in the Scenario "The Water Temple". Princess Ruto assists the Hyrulean Forces by opening the floodgates allowing passage to the Water Temple. She then shortly leaves to find the Lens of Truth, in order to reveal the true identity of the false Princess Zelda. She is however soon captured by Zelda. After being rescued, she hands the Lens of Truth to Sheik before retreating from the battle.
Ruto otherwise does not play a large role in Legend Mode by default. She, however, will appear in place of Zelda, Sheik, or Darunia should any one of them be chosen in a Scenario they appear in. In "The Sacred Sword", Ruto will be the one to activate the Fire and Water Statue if Darunia is being played as. In "Liberation of the Triforce", Ruto will be the one to grant Link the Light Arrows during the final battle if Zelda is picked.
When defeated in battle, Princess Ruto may occasionally drop her Earrings as a silver Material, and rarely her Scale as a gold Material.
Super Smash Bros. Ultimate
Young Princess Ruto appears as a Spirit in Super Smash Bros. Ultimate.
Trivia
Nomenclature
Ruto's name may come from the Japanese word naruto, which means "spiral" or "whirlpool".[31]
Names in Other Regions
Language
Name
Meaning
Japanese
ルト姫 (Ruto-hime) (

OoT

)[32]
ルト (Ruto) (

OoT

)[33]
 
Ruto
French

CA

Ruto (

HWDE

)
 
French

EU

Princesse Ruta (

OoT

)[34]
Ruto (

HWDE

)
Princess Ruta
 
German
Ruto (

HWDE

)
 
Italian
Ruto (

HWDE

)
 
Spanish

EU

Ruto (

HWDE

)
 
Spanish

LA

Ruto (

HWDE

)
 
This table was generated using translation pages.
To request an addition, please contact a staff member with a reference.
Gallery
Ruto's Standard Outfit (Master Quest) from Hyrule Warriors, based on Lulu from Majora's Mask

Ruto's Zora Mask Costume from the Termina Map from Hyrule Warriors
Video Gallery
Hyrule Warriors
Zora Scale gameplay from
References