Official Rito Tribe Bird-Man Contest
Game
Location(s)
The Official Rito Tribe Bird-Man Contest is a minigame in The Wind Waker.[1] It is hosted by Willi and Obli, two human brothers who dress up as Rito.
Location
The Bird-Man Contest is located on the Flight Control Platform east of Dragon Roost Island. To participate, Link must speak to Willi and pay a fee of 10 Rupees, which will grant him passage onto the upper deck of the Flight Control Platform where he may start the trial. Also, he will fully replenish Link's Magic Meter.
Rules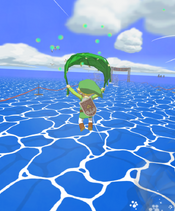 In order to win a prize, Link must traverse a specific sea distance and cross a pre-determined finish line set 255 yards from the Flight Control Platform.[2] The stretch of sea incorporates several Updrafts into its design; the Deku Leaf is designed for catching the spinning air and pushing Link upward, aiding in his descent toward the finish line. The challenge lies in catching these vortexes, as they all have paths of their own, and lay at different intervals from each other. One missed vortex may cause Link to hit the water, subsequently losing the challenge. The most effective direction for the wind to travel towards the banner is northwest.
The contest can only be completed with a doubled Magic Meter, obtainable from the Great Fairy at the Two-Eye Reef, as Link will not be able to make it to the finish line with his regular meter. However, it is possible to use the Tingle Tuner to gain a distance boost at the beginning with a Tingle Balloon as well as replenish Magic Power as Link flies. This is in accordance with the Bird-Man Contest's rules, as the brothers state that Link is free to use any means he wishes to get to the goal.[3][4]
If Link is able to reach the goal, he will be rewarded with a Piece of Heart and the title of the "new and great and talented champion,"[5] the title previously held by Obli.[6] After Link has bested Obli's score, he will no longer be required to pay a 10 Rupee fee to participate. Subsequent victories will result in a Purple Rupee, worth 50 Rupees.
If Link fails to cross beyond the banner, he will be disqualified.[7] If Link exits the established boundary, his Magic Meter will decrease rapidly, causing him to fall and disqualifying him from the contest.[8][9] Should Link fly out of bounds southward, Obli and Willi will reprimand Link for not participating in the contest properly.[10][11]
Trivia
The banner at the end is reminiscent of the one on the Boating Course, however, it bears the symbol of a feather.
References