The Moon Children are characters in Majora's Mask.[name reference needed]
Biography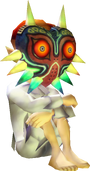 The Moon Children are located inside the Moon on a Grassy Playfield. There are five children, four of which are running around the Tree in the center of the field, while the fifth sits at the bottom of the tree. The four running children each wear one of the boss Remains while the fifth wears Majora's Mask. The children are identical in height, clothing, and hair color, differing only in the mask they wear. Their gender is debatable but their haircut seems to indicate that they are male. They were created by Majora's Mask, made to appear the same age as Link. Despite their resemblance to the Happy Mask Salesman, he had never met them.[1]
The four children ask for different amounts of Masks from Link.[2] In return, they agree to play Hide-and-Seek with him, sending Link into a dungeon thematically similar to the one ruled by the boss whose mask they wear.[3] After completing each dungeon, the child at the end of it will ask Link a question that concerns his beliefs about the world around them, after which the children will ask for more masks.[4][5][6][7] After Link returns from each dungeon, the child disappears. However, if Link did not obtain all of the masks in the game, he cannot complete all of the dungeons and thus cannot get the Fierce Deity's Mask.
The final child wearing Majora's Mask will send Link into the final boss battle with the mask itself. He does not ask a question, but he mentions the absence of the other children if Link has completed the four dungeons.[8] If Link obtained every mask in the game and gave them to the other children, the final one will comment on this and give Link the Fierce Deity's Mask.[9] Before the final battle starts, he refers to it as the good guy playing against the bad guy, with Link being the bad guy. The fifth Moon Child's comment may indicate that the fifth Moon Child was temporarily possessed by Majora's Mask. The fact that the fifth Moon Child refers Link as an evil guy also indicates this, as it means that the fifth Moon Child's temporary possession indicates that Majora's Mask plans to destroy Link to prevent him from stopping The Moon from destroying Termina. [10]
Trivia
Gallery
References