Misery Mire,[1] also known as Level 6,[2] is a Dungeon in the Dark World in A Link to the Past.
Entrance to the Mire
The Misery Mire Dungeon is located in the Swamp of Evil. It can only be entered by using the Ether Medallion in front of the entrance to calm the storms that ravage the area.[3] It is the sixth Dark World Dungeon, and the tenth Dungeon overall in the game. Its Light World counterpart is the Desert Palace.
Despite being called "Level 6", it can be beaten before even entering Skull Woods, Ice Palace, and Turtle Rock.
The dungeon is green-colored, and features Wizzrobe creatures. One of the main rooms feature a double maze (one under the other, where numerous fireball snakes maraud aimlessly); another room opens its space when Link lights four torches with the Fire Rod, and another room is a large chasm that can only be crossed through wooden bridges. It is somewhat reminiscent of the Swamp Palace because of the dungeon's location (a large body of water), the boss and the overall atmosphere; however, there is no water anywhere. The dungeon is home to the mysterious artifact, the Cane of Somaria, useful to press slacked switches; the trapped Maiden is guarded by the monstrous creature Vitreous.
Enemies and Traps
Other Appearances
A Link to the Past (Ishinomori)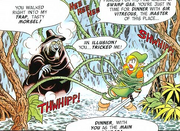 Misery Mire is also featured in the A Link to the Past comic by Shotaro Ishinomori. After Link exits the Swamp Palace, he hears Princess Zelda contact him telepathically from beyond the wasteland.[4][5] Epheremelda, who cannot hear Zelda's calling, advises Link against going to the wasteland since it is too dangerous, and once they get in there, there will be no way to escape.[6] Link disregards her suggestion,[7] heading into the wasteland where stumbles into an oasis from where Zelda is calling his name. The young hero ventures in and finds her,[8] but as he remembers the Maiden's words of Zelda being inside Turtle Rock,[9] the princess turns out to be an illusion made by a Wizzrobe, who promptly captures Link and conjures Vitreous from the swamp to devour him.[10] However, just as Vitreous is approaching Link, a whirlpool is created that engulfs both Vitreous and the Wizzrobe, and from beneath Zora appears to rescue the young hero at Epheremelda's request.
Nomenclature
References