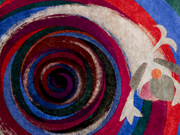 The Life Force is the power inside all living beings. Bellum, the evil phantom, can steal this power from people for his own personal gain in Phantom Hourglass. The Sand of Hours are a physical representation of the Life Force, and the islands of the sea have an abundant amount of Life Force.[1][2]
Prior to the events in Phantom Hourglass, Bellum attacked the Ocean King and stole most of his Life Force away from him.[3] Unable to strike back, the Ocean King was sealed up inside the depths of the Temple of the Ocean King, where his vital force keeps getting drained by the second. Bellum then used the Life Force of the Ocean King to spread his evil, bring forth new monsters, and imprison the Spirit of Power and Wisdom.[4] However, Bellum was not content with just stealing the Ocean King's Life force. Eventually, the Ghost Ship was created, which had the sole purpose of also draining life force from people. A story was then made up that the Ghost Ship contained treasure within it in order to lure people in.[5]
In the Temple of the Ocean King, the Sand of Hours along with the Phantom Hourglass protects Link from having his Life Force drained by the evil within the temple. When Tetra gets on board the Ghost Ship, the mysterious ship drains her Life Force away and causes for her to turn into stone.[6] Once Link defeats the first phase of Bellum, Oshus recovers a part of his life force and uses it to teleport Link and Ciela to Linebeck's ship before the Temple of the Ocean King collapses. Bellum, having been defeated by Link, disappears and causes for the Ocean King to fully recover his life force as well as his true form.
See Also
References
Names in Other Regions
Language
Name
Meaning
Japanese
フォース (Fōsu)
Force
French
Force vitale
German
Lebenskraft
Italian
Forza
Spanish

EU

Fuerza vital