Dowsing is a skill from The Legend of Zelda: Skyward Sword. Taught to Link by Fi, dowsing allows Link to use the Goddess Sword or Master Sword to search for objects and characters. Dowsing is performed in first-person view; a small arrow around the purple crosshair points the way to the exact location of the target. As Link approaches his target, the speed and pitch of the beeping sound increases, the crosshair flashes more brightly, and grows larger.
Story
Link first uses dowsing in Faron Woods, where it is used to search for Zelda, eventually leading him to the back of the Skyview Temple. When Link upgrades the Goddess Longsword to the Goddess Whitesword, its capacity for dowsing increases, eventually allowing him to search out items such as Treasure, Hearts, Rupees, Goddess Cubes, and Gratitude Crystals.
Initially, Link starts out with 3 Dowsing slots and gains 4 additional slots after obtaining the Goddess Whitesword. Five of these slots are used for dowsing Hearts, Rupees, Treasure, Goddess Cubes, and Gratitude Crystals. The other two slots are used for targets found in the main quest (the top most dowsing slot) and side-quests (the left most dowsing slot).
Unlocking Dowsing Targets
Link can unlock the ability to dowse for various objects by speaking to various people. Most require Link to obtained the Goddess Whitesword in order to unlock the ability to dowse for them. Other dowsing targets are unlocked during the story or side quests.
Main Quest
Items
Video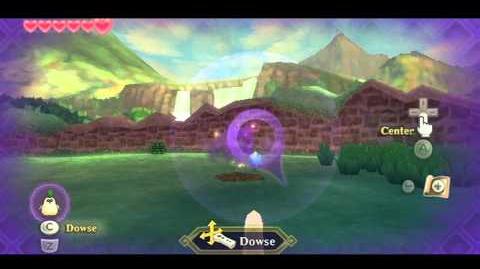 Community content is available under
CC-BY-SA
unless otherwise noted.