"To my shame, I fell under the sway of dark powers and was transformed into a base creature of magic."
Base Creatures of Magic are bosses from The Legend of Zelda: Four Swords Adventures. The four main Base Creatures of Magic are the spirits of four cursed Knights of Hyrule. When their respective Royal Jewels that they guarded became corrupt, the Knight Mark that held them turned into a Dark World portal, sucking them into the Dark World and transforming them into Stalfos-like Base Creatures of Magic. Each battlefield for the four main Base Creatures of Magic contains the circular Knight Mark, which holds a Royal Jewel. More Base Creatures of Magic may be encountered during the final battle with Ganon; if Link is hit by Ganon's attack that sends him to the Dark World, he will have to defeat a number of Stalfos, followed by a Base Creature of Magic, in order to escape. These Base Creatures of Magic are not transformed Knights like the first four, and have no Light World presence that is seen.
Battle
Although Base Creatures of Magic are trapped within the Dark World, their swords are not. In order to fight them, Link must first defeat the Stalfos or Hyrule Guards in the area. Once they are defeated, Link is pulled into the Dark World through the Knight Mark. While avoiding a Base Creature of Magic's constant slashing, Link must keep attacking him until he is destroyed. After a Base Creature of Magic is destroyed, the Knight of Hyrule's spirit is freed, the Knight Mark dissolves, and Link gains a Royal Jewel. The Base Creatures of Magic encountered during the battle with Ganon are only fought in the Dark World, and Link is returned to the Light World after defeating one.
Videos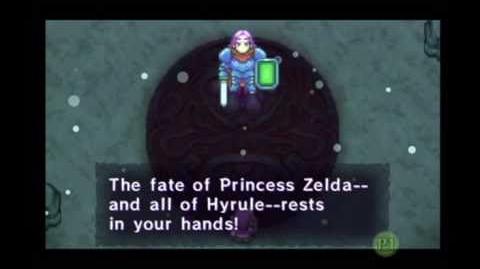 See also
Community content is available under
CC-BY-SA
unless otherwise noted.