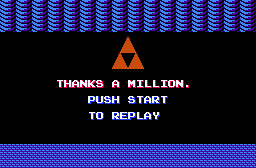 The Second Quest is a recurring aspect in the Legend of Zelda series. It allows the player to start the designated game again with several differences once they have completed it once.
Appearances
The Second Quest can be accessed by finishing the game once or by entering "ZELDA" as the player's name when creating a new file. In the Second Quest, all dungeons are rearranged and often found in different locations. The items acquired in each dungeon are also different and usually feature multiple boss enemies per dungeon.
The second quest came out of a design mistake by Takashi Tezuka in which he only used half of the available memory for the dungeons. Instead of redoing the game, more dungeons were made to fill the other half of the memory. It was decided to make the second set of dungeons part of a second quest at the suggestion of Shigeru Miyamoto.
After finishing the game once the player can start the Second Quest. Unlike The Legend of Zelda, the enemies and dungeons remain the same. However, in the Second Quest, Link retains all the level ups and magic spells he had when he finished the first quest. All weapons must be re-obtained, and all palaces must be beaten again to access the Great Palace.
After finishing a Linked Game and receiving the Hero's Secret a Second Quest can be started in either game. The new game has a few changes, the most notable being that Link begins the game with the unappraised Victory Ring. On the Name Registration screen when the game begins, the file will also have the Triforce next to it.
The Return Linked game allows Link to experience the original game without the altered storyline, but with the addition of the main Linked Game's items and upgrade.
Unlike the Second Quest of The Legend of Zelda, all dungeon designs and locations remain unchanged. Instead, there are many differences that do not effect gameplay, but do change the appearances of some characters and other subtle differences. All figurines in the Nintendo Gallery will remain, and will not be deleted in the Second Quest.
Some pictures that could not have been obtained during the first play through, can be obtained if Link buys them Lenzo